Introducing
The Modern Estimate
When it comes to roofing and siding, the industry hasn't changed much in decades. When it's time to replace your roofing or siding, busy homeowners are tasted with taking time off of work to collect their 2-5 estimates. They sit through long sales pitches and end up uncertain if they got the best deal. We're here to simplify your life.
A NEW WAY TO SHOP FOR ROOFING & SIDING.
The most common complaint when we spoke with homeowners shopping for roofing or siding is that the process was tedious and annoying.  Most contractors ask for all homeowners to be present, appointments take hours, homeowners miss work and the entire process seems….outdated. 
Download the app, take a few snaps, and get the most accurate estimate possible. Plus, your model is yours to keep.
Welcome to the future of home improvement.  With the Modern Estimate we create a full 3D model of your home that allows us to estimate your project using precise measurements from photos you upload yourself.  We create our most accurate estimate based on the products you select and offer our absolute lowest price.  Decide not to hire us? No worries, the 3D model is yours to keep and can be used to accurately estimate future projects such as gutters, roofing, siding and windows. 
THE MODERN ESTIMATE IS FREE FOR MODERN CUSTOMERS
Snap Some Pics
If you can hold a phone, we can measure your home. We ask you to take a minimum of 8 photos capturing every angle of the home using the guided process in the app.
Create Your Model
Once your photos are uploaded, we transform them into a fully measured and customizable 3D model. We notify you in app or by email when your model is ready. The model is yours to keep forever.
Design and Measure
Once your model is completed, a member of our field team double checks your measurements in person. We also check for any issues that may affect the cost. You do not have to be home for this.
Create Estimate
After the measure is verified, we walk you through product selection. This can be online or in person, it's up to you! Once you're done, we create your estimate with our absolute lowest price.
BOOK YOUR MODERN ESTIMATE
Booking a Modern Estimate is simple, using our online booking system choose the day and time that works best for you for one of our Modern Pros to give you a call to walk your through the photo process.  This should take between 5-15 minutes depending on your comfort level with using apps and the questions you have about our services.  If you have questions before booking, feel free to give us a call we love to help.  The Modern Estimate is a flat $99 fee which is credited back to you if you decide to move forward with the project.
If you can take a selfie, you can measure your home.  The photo upload process is made easy through guided steps that show you how to take the photos of your home and which angles produce the best results.  Of course, our team is here to help along the way if you have questions. Once you upload your photos, we should have your 3D model completed within 1-2 business days.  Your model is yours to keep forever even if you don't proceed with the project.
After your model is completed, our field technicians will email you to let you know when we'll visit your home to verify the measurements.  During this visit we check shingle layers, inspect for issues that may affect the price of your estimate and drop off product information or samples if requested.  With your 3D model, you'll also receive an email with links to view our entire product line online from the comfort of your home.  If you'd like to review your options in person, great! We can do that too.
Once you chose your products, we send you an updated render of your model showing you the colors and materials you chose.  You can also do this yourself using our app and on your phone or iPad making as many changes and versions as you'd like.  Get creative! We want you to love your new home exterior.  Your estimate is built on the materials you choose during this step.  If you'd be more comfortable with one of team members guiding you through this process in person, we're happy to help.  In person estimates are always available, but you have options.
The Modern Estimate process allows us to give you the most accurate and detailed estimate possible.  Our software links directly with product manufacturers to give us the most accurate up to date pricing.  What does this mean for you? This means that you can trust that your estimate is the price that you'll pay. Many competitors low ball estimates and then jack up the price on the job site using flimsy excuses for why they didn't estimate your project properly.  Once you approve your estimate, we'll credit you the cost of your Modern Estimate and get to work.  Decide to go with another company? No worries, keep your model for future projects and inspiration.
Michigan's Best Reviewed Home Improvement Company.
MICHIGAN'S FAVORITE HOME IMPROVEMENT COMPANY
We're one of the fastest growing home improvement companies in Michigan for a reason, our happy homeowners. We make it our mission to make sure that each and every job is done right, no excuses.
The Modern Pros were hired to install a brand new CertainTeed Landmark Roof on this…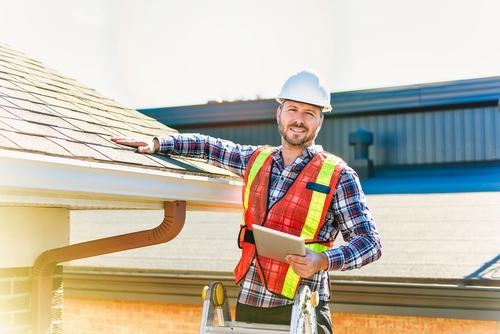 Let's face it, most people don't know much about what's happening on their roof. You…