Ahhh, spring! That time of year that you can finally put everything Marie Kondo taught you to good use and clear out all those dust bunnies that don't bring anyone joy. And while a thorough spring cleaning inside your home is in order, don't forget that the outside of your home could use some love, too.
Here are some quick tips to inspire you to getting your home spick and span this spring, both inside and out.
Inside:
Bust the Dust

– Face it, dust has been collecting all winter in places you'd least expect it. Be sure to get down to the floor to properly dust the baseboards and in corners. Don't forget fan blades, windowsills, and light fixtures, too.
Replace and Renew

– Take this opportunity of spring cleaning to replace the batteries in your smoke detectors, refresh the lightbulbs in your lamps and fixtures, and replace your air filter.

Get Organized

– Spring cleaning means you've got a great opportunity to sort out all of the things you've brought in to the house over the last few months and get them back where they belong. Don't be afraid to ditch the things that aren't useful to you anymore, too, as they can be donated to someone who might need them. Pack up, organize, and label all those winter clothes and items and store them away until next year
Outside:
Swab the Deck

– No, we're not talking about your pirate ship— just the patio in the back yard. Chances are likely that winter has covered your deck with all kinds of grime and gradoo. A scrub and a power wash might be in order. Time to bring out the elbow grease!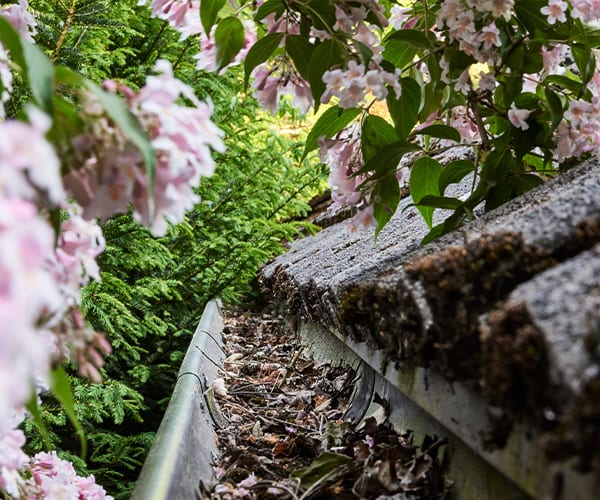 Get those Gutters – Cleaning the gutters is a job that no one is excited about, but it's a necessary one. It will also give you a good idea of whether or not you need to get new gutters if yours have fallen into disrepair or are falling off. If you do need to replace or update your gutters, the pros at Modern Xterior are more than happy to help. Give us a call at 877-MODERNPROS today for a quote on determining just what's best for your gutters.